aaron

morgan

Art, like his Jewish heritage, has always been at the core of his being. A native New Yorker, Morgan was artistically trained at the High School of Art & Design; attended Pratt Institute and is a graduate of The Cooper Union. He is a member of the Pastel Society of America, the Connecticut Pastel Society, the Art Council of Port Washington, the Huntington Art League, The American Guild of Judaic Art and The Jewish Art Salon.

    Morgan traces his Jewish roots far back before his father changed his name in 1927 from Morgenstern to Morgan.  He can trace his lineage back to 1788 and has records of each person dating back from his father to his multi-great, great grandfather, the great Hasidic master, Menachem-Mendel of Kotzk.  Like his illustrious ancestor, who spent his life searching for "truth," Morgan too is searching for truth; the difference is that he uses pencil and paper, or paint and canvas instead of books and prayer.

     Besides the numerous clients and awards that he has garnered for his graphic design endeavors he has also been involved with the design of Judaic objects. He has created a Seder Plate and Blessing Cup that was produced by Waterford Crystal.  In 2005, he was one of the thirty-five American artists selected to show at the Hebrew Union College (HUC) exhibit "Waldsee, Postcards from the Holocaust," which is currently touring the nation. He is now in the process of designing stained glass windows, based on Genesis; a memorial wall; and elements for a sanctuary on Long Island, N.Y.

   Best known for his contemporary impressionistic pastel landscapes, Morgan is always a designer.  Whether designing the surface of a painting or a graphic element, the thought process evokes his intellect and creative spirit.  He has exhibited his visions in many venues--from one-person to group shows; he has been honored with numerous awards and prizes and is collected by individuals and corporations.

- LM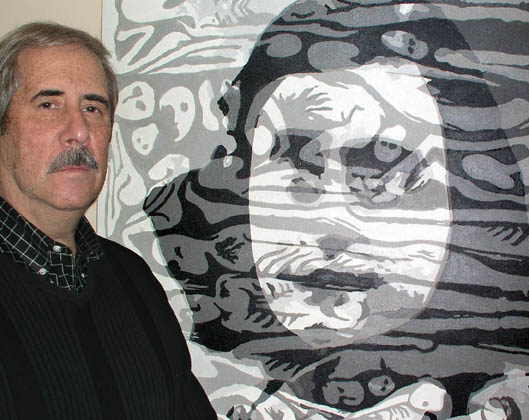 Exhibits and Awards (partial list):

Holocaust Menorah used at the Tolerance Center of Nassau County, Yom HaShoah--2012

Huntington Art Council, Photography show—Main Street Petite Gallery –2012

The Jewish Theological Seminary for Conservative Judaism, NY, is planning to teach third and fifth graders about Shabbat and Creation.  The plan is to use three works of art as the method of teaching the course.  One will be the "Sarajevo Haggadah", that was created around 1350, in Barcelona. The second work will be Aaron Morgan's "B'reishit/In the beginning" and the third- an artist soon to be named

Lectured on creating Holocaust Art-In Suffolk County, NY 2012

Chosen for first one person art show at the recently redesigned Tolerance Center of Nassau County —March-April 2011

Morgan's work will be on loan to the U.S. State Department for its 'Art in Embassies-2011' program for a period of two years to represent American art abroad. Ambassador James F. Entwistle, ambassador to the Democratic Republic of the Congo, wanted to include works to provoke discussion and reflection, particularly on issues of social justice and social/moral responsibility. "The Face of Silence and Apathy" will be there to reflect on the Holocaust and its implications for today.

Participant in "The Memory Block Project" at the Educational Alliance Gallery in honor of 9/11—in conjunction with the Jewish Art Salon

Public Art commission to create two 4' x 4'ceramic murals for Port Washington, NY's Bay Walk, installed 2011

Mizel Museum-Judaic Collection, Denver Colorado 2010

Huntington Art Council, Landscape show—Main Street Petite Gallery --2009

Peter Wilhelm Art Center, Budapest—2009, "Ann Frank-Through the Artists Eyes" one of twenty international artist from twelve nations  including six Americans artist  invited by curator, Batya Brutin, Israel (NY State S.O.S. Grant)

Islip Museum of Art, Summer 2008— group show, Digital art

Lectured, Genocide Awareness Day, Schreiber High School— June 2008

Exhibited and lectured on Holocaust art, The Community Synagogue— May 2008

Krasdale Galleries, the Bronx—"Shtetl, Shoah and The Land of Israel", April-July 2007—Curator, Sigmund Balka

Krasdale Galleries, White Plains— "Shtetl, Shoah and The Land of Israel", July-September 2007—Curator, Sigmund Balka

The Graphic Eye Gallery, group show-May 2007, 2006, 2005

The Gallery at The PW Library- Council show, July-August 2006, 2007, 2008, 2009, 2010, 2011, 2012

Hebrew Union College, Waldsee 1944, Post Cards from the Holocaust, 2005— selected artists invited

Islip Museum of Art, Summer 2005— group show, nautical art exhibit

Nassau County Museum of Art, 2005 — First prizewinner, outdoors art exhibit

State Bank Exhibit, 2003, 2004— group show, Award Winner

L.I./Nassau County Art in Architecture Competition, first prize-winner, Chelsea mansion, Second Prize-best overall. 2004

One man Show—Contemporary Art Gallery, Port Washington, NY, Fall 2003

Designed the Americas Cup Information Center, South Street Seaport, NYC, 1986